What is a contact lens fitting?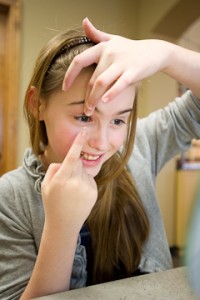 Yes, you've heard of getting a dress fitting or even a custom men's suit fitting, but have you ever heard of getting a contact lens fitting? Although getting your clothes fitted is important, nothing is quite as important as ensuring that you can see properly— that's why we at Millennium Park Eye Center offer our patients contact lens fittings. But what is a contact lens fitting and how is it performed? Read on to learn more.
What Is a Contact Lens Fitting?
A contact lens fitting is an appointment in which patients will be tested to ensure that their contact lenses fit properly and that they are the right prescription. During your appointment, not only will you be instructed regarding how to put your contact lenses in but you will be given some brief tests to make sure that you can see properly— after all, nothing is worse than feeling dizzy after you get new lenses.
What Are the Benefits?
During an eye exam, it can sometimes be hard to narrow down the exact prescription strength that you may need. And, getting a contact lens fitting done will help us to make sure that we got the job done right and that you can see properly. Additionally, if this is your first time either wearing contacts in general or wearing this particular type of contact lens, we can teach you both how to put them in and take them out so that you are sent home feeling comfortable and confident.
Here at Millennium Park Eye Center, we want all of our patients to leave our office feeling happy and satisfied. If you are interested in getting contact lenses but are a bit fearful that they just won't fit right, our eye experts will make sure that you have a good experience. To learn more about your eye health or to schedule an appointment, contact Millennium Park Eye Center today!
Category:
---